News
Homeground shakedown 2024!

The Bandits will be hittin' the stage at the renowned BIX jazz club on 3rd Februar, 2024 - put your cat clothes on and join the show!

Bandits about to hit the Jazz Open!

The band will perform at this year's festival on 16th July and will make motorcity Stuttgart JIVE and WIGGLE....
Are you ready, Peeps?!
About
THE BIGTOWN BANDITS are a seven-piece big band from "motorcity" Stuttgart which has entirely devoted itself to the vintage sounds of the 1940s, 50s and 60s. The BIGTOWNERS have been heavily influenced by the music of artists such as Wynonie Harris, Little Richard or Nick Curran – thus, the group's repertoire ranges from Jump Blues and Roots-Rock'n'Roll to early Soul and brass-imbued Swing.
Despite their "old school" character, the BANDITS' tunes never sound too old-fashioned but fresh due to some hard-rockin' guitars and powerful lead vocals. The combo consists of some highly talented virtuosos from the circles of Stuttgart's State University of Music who show off their skills with unrestrained enthusiasm when performing live. The band's fabulous horn section and pulsating piano, its polyphonic vocals and slappin' upright bass has so far made even the most reluctant crowd jive!
The classy outer appearance of THE BIGTOWN BANDITS corresponds with their vintage musical oeuvre: Gabardine, ties, hats and suspenders evoke that distinctive hepcat extravaganza of Chicago's past times and make these fellows look real genteel.
Die BIGTOWN BANDITS sind eine siebenköpfige Big-Band aus "Motorcity" Stuttgart, die sich mit Leib und Seele dem Vintage-Sound der 1940er, 50er und 60er Jahre verschrieben hat. Die Bigtowners sind durch die Musik von Künstlern wie Wynonie Harris, Little Richard oder Nick Curran beeinflusst und das Repertoire erstreckt sich von Jump Blues und Roots-Rock'n'Roll über frühesten Soul bis hin zu bläserstarkem Swing.
Entgegen aller "Old School"-Anleihen kommt der Bandits-Sound niemals altbacken daher, sondern klingt dank fetziger Gitarren und energiegeladenem Gesang stets zeitgemäß und frisch. Die Gang ist mit namhaften Virtuosen aus dem Dunstkreis der Stuttgarter Musikhochschule bespickt, die ihre Skills voller Hingabe ins Publikum schmettern – die leidenschaftlichen Bläsersätze und das pulsierende Piano, der mehrstimmige Gesang und die schmatzenden Kontrabass-Klänge versetzten bislang noch jedes noch so zurückhaltende Tanzbein in Verzückung!
Das elegante äußere Erscheinungsbild der BIGTOWN BANDITS geht einher mit ihrem delikaten Retro-Oeuvre: Gabardine, Hut, Hosenträger und Schlips beschwören die glamouröse Extravaganz eines Downtown Chicago aus vergangenen Zeiten und machen diese Männer nicht nur musikalisch zu verwegenen Hepcats.


Media
Videos
THE BIGTOWN BANDITS - Love Potion No. 9 **Live at Lindenhain 01/06/2019**
THE BIGTOWN BANDITS - Official Trailer **Live at Goldmark's 23/04/2016**
THE BIGTOWN BANDITS - Bandit Boogie **TV Broadcast**
THE BIGTOWN BANDITS - Don't Jive Me, Baby **TV Broadcast**
THE BIGTOWN BANDITS - Detroit City **TV Broadcast**
THE BIGTOWN BANDITS - Let Me In **Live @KSK Music Open 28/07/2018**
Music
Gallery
Press
Interview im "The Unleashed" Magazine

Published on 19th Apr, 2020
in The Unleashed No. 26.
Article written by Michael Niehage
Read article (pdf, 820 KB)

Zwischen Unterricht und Rock'n'Roll

Published on 8th Jun, 2018
in Waiblinger Kreiszeitung.
Article written by Sebastian Striebich
Read article (pdf, 248 KB)

Waiblinger Lehrer mit "Bigtown Bandits" im Fernsehen

Published on 9th May, 2018
in Fellbacher Zeitung.
Article written by Redaktion
Read article (pdf, 515 KB)

We are
The Bigtown Bandits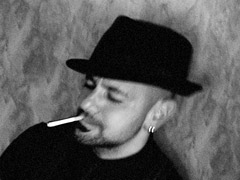 Don Attilio –
Vocals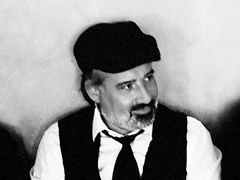 Philipp –
Guitar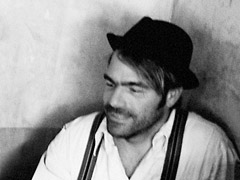 Tobi –
Upright Bass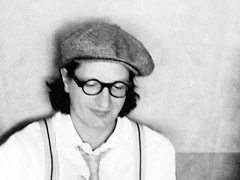 Magnus –
Saxophone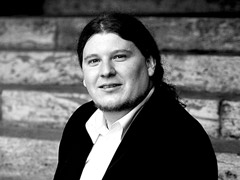 Stef –
Trumpet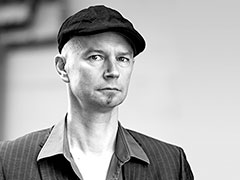 Micha –
Drums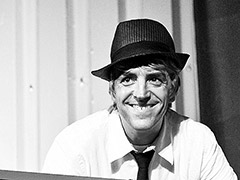 JP –
Keys
Tobias Bodensiek – Upright Bass

Stefan Schneider – Trumpet

Jean-Pierre Barraqué – Keys


Merch
For all you Bandits' afficionados we make merchandise material available from time to time. Highly desirable, strictly limited, bargain prices – what a steal! Better get it now before it's gone forever. Drop us a note with your order and we'll arrange the deal: info@bigtown-bandits.de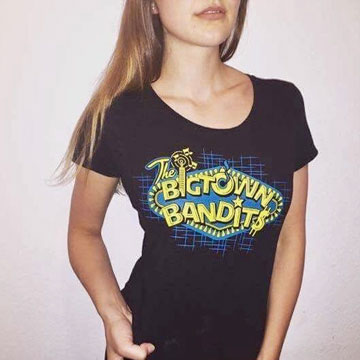 Bigtown Logo Ladies' Tee
Ladies' fit – sizes XS / S / M
19,99 EUR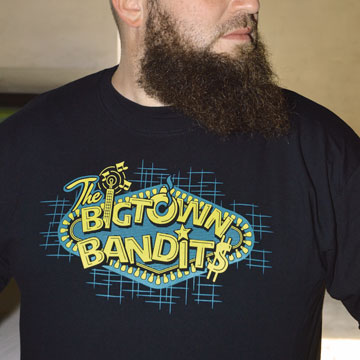 Bigtown Logo Men's Tee
Gentlemens' fit - sizes M / L / XL
19,99 EUR
Contact
The Bigtown Bandits
c/o Tobias Bodensiek
Johannesstraße 23
70176 Stuttgart
+49 176 201 105 86
info@bigtown-bandits.de